Dennis showed up as promised, on the same day when the emergency occurred. He was very professional, courteous and patient. Dennis explained to me in simple words what caused the problem, how it can be fixed now and what he recommends to do further. Most importantly, he did not leave me freezing on this February night and came the long way to keep me safe and warm.

- Inna Radzinsky. 1/29/2020

I called and left a message and was called back promptly. We agreed on a time and I received a Email prior to them showing up at the time we agreed to. Very knowledgeable on my furnace and was impressed with their professionalism. I would recommend their services to anyone in need.

I made a very good choice contacting you guys very satisfied, come through in a emergency call !!

After shopping around and talking to some HVAC companies like UGI , they were trying to sell me a low end unit at a high price with many extras we didn't need. I asked asked a friend of mine who has been in the business for many years who to go with and he recommended Able! I spoke with Dennis and not only was he very knowledgeable, he answered my call on a Sunday! He answered all of my questions and came the next day to out to look at the unit. He showed me a better solution than other companies, who were just trying to just sell extra products! I mean I asked him a bunch of different solutions such as radiant heat, heat pump and baseboard and he went over every single solution with its pros and cons and how much it would cost. Dennis and his team setup a high efficiency unit with the blue light filtering which is amazing solution to some of our breathing problems we were having! I'm very happy with the work Able Heating and cooling has done and highly recommend them to every person who wants great quality work at a fair price done. Choose Able for all of your heating/cooling needs!

- jason moghadassi. 11/4/2019

If there were a 10 star rating I would gladly give one. Professional, knowledgeable, efficient, reliable, reasonable. Dennis and his employees are just great! Don't mess with the rest, just give this company a call. Highly recommended.

- Kimberly Guerin. 10/5/2019

Dennis is absolutely the best HVAC tech I have ever dealt with. Beats the competition within a 50 mile radius. Knows his units and charges fairly.

I had a great experience with Able Heating & Cooling. Very professional and very clean they installed my HVAC in 2 days. the whole process was easy from start to finish. They also offered the best price in town and easy financing options!! I would HIGHLY recommend Able Heating & Cooling to anyone homeowner!! sincerely the Azanedos

- sylvano azanedo. 9/16/2019

Very prompt response to our request for a quote. Quick scheduling. Arrived as promised. Installation done quickly and neatly. I like that this is a small company with owners individual attention. Love our new central a/c

- Carol Van Sciver. 8/16/2019

Great service, Dennis was great from the beginning when he came in and gave me his opinion on what would be the most cost effective system for my house. He and his crew showed up when they said they would and worked nonstop until the job is finished. Highly recommended!

When hiring a company to come to your home, you want great service, communication, and of course a great product... Able Heating and Cooling are the guys to call. Dennis is hard working and very knowledgeable... I know these guys are very professional . Thank you for upgrading my heating/cooling system.. #1

My experience with Dennis was great!! He answered all of my questions clearly and promptly. He made the financing process extremely easy. He communicated about what was going on and what was needed to be done next, every step of the way. I would highly recommend him to anyone needing service, repairs or installation of their HVAC systems.

Dennis Gordon and his team are great! I was quoted on a new furnace/ac unit and it was installed less then two weeks later. The quotes and lead times I had from others were not even close to Able. I also didn't really know what I was getting with the other companies where Dennis/Able went over everything that I would need and an explanation why. If you are looking to trust someone with your HVAC needs, trust Able. I'm extremely happy with the work they did and very happy I didn't go with anyone else. Everything was done in a professional manner. They were efficient and quick. I would not ask for anything else!

The Co. Was straight forward from the beginning regarding all repairs and recommended best advisable course of action under the circumstances. The crew was polite and professional. Def. would hire them again. Pricing was great. They even ended up saving me some extra money in the end. Great job.

- Rosa Figueroa. 5/6/2019

Absolutely the nicest most professional service ever! Fast, honest, and fair pricing ! Thank you !

- Carolyn Castaldo Hall. 4/20/2019

Dennis had the best price for a high quality oil tank. They got the work done quickly, disposed of the old tank and left the area clean. I would highly recommend him to anyone looking to have this work done.

Good price, quality work - definitely went the extra mile to make me happy. It's been almost a year - everything is running great.

- Chris Gurciullo. 3/7/2019

Dennis and his team Able Heating & Cooling Was Very professional, honest and polite when installing my new central air unit. I am Also In the refrigeration field so I'm pretty accurate in knowing when a contractor is trying to gouge me with high pricing or isnt knowledgeable within the field of HVAC. I can honestly say Dennis is an upstanding guy who knows his craft and I will definitely recommend Able heating and cooling to anybody I know who wants a Good deal and Solid work done on there home unit. Thanks Again!

- Raul Martinez. 3/3/2019

Able heating was very swift and Proficient in answering the call to duty ..My pipes froze and broke ..and Able heating came out ,accessed the situation and did what needed to be done from beginning to end..!

- Lee Sessions. 2/23/2019

Professional, caring, knowledgeable and have financing for the larger jobs. I would most definitely recommend!!!

- Shaina Serrano. 2/19/2019

Good job and they are on time and they keep you will inform great job thank you

- Francis Wagner. 2/5/2019

Fast response, reasonable pricing, kept in contact until job was completed. Excellent customer service. Knowledgeable and skilled.

Excellent price to install a Rheem gas water heater! I was quoted $600 more to install a lesser quality by another salesman. They are very Professional and most importantly a very "Honest" company. I would without a doubt hire them again and refer their services to my neighbors and friends.

- Gary Garrett. 1/25/2019

Great job done. Courteous and very knowledgeable on our HVAC system. Honest appraisal before any work done.

- Dennis Kirincic. 1/12/2019

Dennis designed and installed a new heating system for our house. Very professional installation. Good communications. Great to work with. This is my first job with Able, but I' plan to call them for all my work in the future.

- Jim Ziegenfuss. 1/5/2019

They are reliable. Dennis knows his stuff and makes sure the job is done right.

Dennis the plumber was inexpensive and thorough not to mention friendly and trustworthy. I would recommend this company for all your needs.

- jackie disomma. 1/4/2019

Dennis helped us get heat back. He is truly a life saver. I would recommend him. We called him Saturday morning at around 8:30am and he was at our home by 11:30. He tried to fix the other unit but we did need a new heating unit. It went out after almost 14 years. Dennis even provided a very powerful heater to make sure the pipes in the basement would not freeze up and this heater as well provided heat to the entire unit. And today January 29th, 2019 in the snow storm Dennis and his team were at my door before 9am working in the snow storm to make sure my family and I had heat. Thank you so much we now have heat before the temp drops to the teens tomorrow. Able Heating and cooling gets 🌟🌟🌟🌟🌟🌟🌟🌟🌟🌟 yes 10 stars. Thank you again for getting heat back in my home. The Aulder family.

- Natalie Aulder. 0/29/2019

Great experience with Able's Dennis Gordon. highly knowledgeable and diligent. called back immediately.

- Gary Dorfner. 0/28/2019

Fast, friendly, and affordable. I highly recommend Able.

- Vincent Zelizo. 0/28/2019

Our heating unit went out on a Tuesday evening. Dennis showed up within 4 hours to make an emergency call. He confirmed what we already knew, that our unit was shot. Not only was he able to assist us with low interest financing on a new high efficiency unit on the spot, he had us on the schedule to be installed by Thursday morning. He even offered to bring us space heaters to protect our pipes if needed. You don't find that quality of service often Not only did I find him to be very knowledgeable, but I felt he made sure to properly inform us of all our options. His crew worked non stop in the pouring rain getting our new unit installed. I was very impressed. So much so that I, the person who shrugs off reviews, couldn't wait to share my experience. We will definitely use his services for maintIning our unit, and any other related work we need.

- Roshawnda Black. 0/24/2019

We had a great experience working with Dennis and Able Heating & Cooling. Dennis was extremely knowledgeable and a big help in choosing the right option for our new heating & cooling system. The team arrived when they said they would and was courteous. I would highly recommend Able heating. —Josh A.

- Josh Abramson. 0/23/2019

Dennis was wonderful , caring , honest , a pleasure , to get to know .

- Karin Sunderlandbo. N can can. Be. z. Ev. Xbox. 0/22/2019

Great guy came on time and gave me heat

- Sheron Mckay. 0/22/2019

We were very thoroughly happy very reliable honest and on time and punctual

- James Vaughan. 0/21/2019

My review of Able heating and cooling, I had a new Heat pump system installed. I was very pleased with their professionalism as Dennis came to my house reviewed my old system and recommended the replacement, the replacement was everything he said it would be, the day of installation's his crew was very professional and took great care in keeping things neat and clean and removed the old unit and all debris. I would recommend able heating and cooling to any of my friends, it cost exactly what they said, it did exactly what they said, and it was as efficient as they said, I would like to thank Dennis and his crew for a job well done.

Always ABLE and Reliable to do whatever it takes to get the job complete along with EXCELLENT service provided to the customer.

This company is awesome. They are trustworthy, the men who came to fix my AC made sure to take care of the job the right way, they were honest about pricing and time, and the best part was how professional everyone was through the whole process.

Able heating and cooling's services their services are best and trustworthy. And their nature are very friendly.Excellent services.

- Arunesh kumar. 8/30/2018

"It is very professional and is very very honest and their service is very good" Trustworthy

- Mohamed Fazil. 8/25/2018

I called able heating and cooling they was very professional, trustworthy,and honest.

A great company with friendly and very trustworthy employees would definitely recommend

- Nickie Benson. 8/22/2018

It is very professional and is very very honest and their service is very good

Very honest, dependable, trustworthy, group of folks. They will do you right if you let them!

- James Ledbetter. 8/18/2018

Able Heating and Cooling provides smart, friendly, and trustworthy service to the community

- Patricia Poczciwinski. 8/16/2018

Very professional, excellent service

Okay, okay I know this is my company but we really are the best. Call us now and we will be there today and may even bring you pizza! (Just kidding about the pizza).

- Dennis Gordon. 8/12/2018

- Tanisha Triplett. 8/6/2018

Thank You For Your Best Quality Service .

- Maddalena Rossi. 8/4/2018

Good job. I recommend them to anyone out there who is looking to grow and market their business.

- Doroteo Mazzanti. 8/4/2018

- Teresa Stevens. 8/4/2018

- William L jones. 8/4/2018

My upstairs unit wasn't blowing at all. I Called Dennis he came over with in 2 hrs and fixed my unit.

- Tuesday Mathews. 8/2/2018

A very honest and trustworthy place! They do an amazing job and my family and I will be contracting them I'm the near future

- Claudia Sanchez. 8/1/2018

The team at Able Heating and Cooling were quick, efficient, communicative! They installed my A/C unit in no time! Customer service is superior! I will recommend Able to my Friends, Family and my Business associates! You cant go wrong with Able Heating and Cooling!

- George Green. 7/24/2018

Very professional, in their work as well as their attitudes! DEFINITELY recommend!

These people were very professional and i found them trustworthy . I'll shop here again soon. The staff was nice

These people are very professional and honest. Great service and affordable!

- Tieara Mitchell. 7/13/2018

Couldn't of gone better. Professional friendly and just an all around great experience

- Lunchbox Tonsoffun. 7/12/2018

Very professional staff. Honest and up front about the cost. The most trustworthy company around.

- Jaycee Johnson. 7/11/2018

Able heating and cooling is a professional, honest and trustworthy company. With Timely and affordable service.

- Theresa Carter. 7/10/2018

I called Dennis yesterday around lunch time (who was a complete stranger to me and was recommended by a friend on Facebook) in need of service to my central air unit. I had called other places local to me who either gave me ridiculous prices just for the service call or never even called me back. It has been very hot the last couple of days and some companies tried to take advantage of our situation. Dennis not only picked up my call but drove straight over to determine the issue after he completed a job at another home close by. (Literally within an hour.) My unit was 20 years old and it was determined that it would have to be replaced. Dennis quoted us on a couple different units and gave us fair prices. He also told us the unit would be put in the following day! Well today he showed up right on time with his crew and they worked over 6 hours to install our new unit. Climbing into my hot attic to install it had to be horrible but his crew was pleasant and hard working. They did an incredible job and I'm happy to say my house is once again cool and comfortable! 1 day between a phone call and a new unit installed, that's amazing service! I highly recommend Able Heating and Cooling and will use them for my future home projects!

- Magical Memories Travel By Amy V. 7/9/2018

I loved it so much it was really professional, honest and trustworthy.

- Emmanuel Farayibi. 7/9/2018

Dennis was both personable and knowledgeable. Price was fair and he educated me throughout the entire process. Would definitely recommend to anyone seeking HVAC service or repair. Thanks Dennis!

- Andrew Kornegay. 7/8/2018

Honest , professional, and friendly. I really enjoyed the service great customer service

This company was very professional , honest, and trustworthy which was a great advantage.

I used this company recently when my air went out and am very happy with the professionalism of this company. The company is honest and trustworthy. Excellent service!! I definitely recommend.

- dirtysouthgirl504 . 7/7/2018

Awesome work ! Dennis and his crew were knowledgeable about their craft. They put in a new HVAC system which is outstanding. Highly recommended.

Dennis called and came right away. He found the problem with our A.C. in minutes and fixed it on the spot. Very fair price. Definitely will be my first call if I ever need service again.

Dennis was great to work with, kind and courteous. Came out the same day I called, on time and was very knowledgeable. Definitely recommend!!

fast, professional service. would recommend and will hire for any future hvac needs. we are very happy with ac unit he and his courteous, knowledgeable staff installed in our home.

These guys are the best. Came through with a quote right on target! Said they'd be here by 10 and out by 4 they were here at 10 and out by 4. Extremely professional polite courteous a number one job! I would recommend these guys a million times to anyone who asks

- Charlene Belletsky. 6/27/2018

Professional work at great prices Dennis is very knowledgeable friendly and I saved a bundle very honest guy

- herbert roper. 6/25/2018

Able heating&Cooling is a pro company that is on time with there app they know a lot about HVAC very courteous i am very happy with there work i recommend them any time

Provided excellent service and follow-up!!! Would recommend!!!!

- tiffany givens. 6/19/2018

New to the area, I had no clue who to call. My pregnant wife and son were sweating as my thermostat read 87 inside, I googled hvac in my area and called Able, they sent out a tech named Dennis. Within a 2 hour window he arrived, found the problem and had the AC kicking again in 15 minutes upon arrival. Beyond pleased with the service

Professional efficient and very reasonable price. Able Heating came out to fix and complete a mini split 3 zone system that someone else started and messed up. 10 star company to deal with and will be my go to company in the future.

Dennis was very professional, honest and gave us a great price! We will definitely use him again in the future!

- Kristin Ward. 5/26/2018

Awesome work! Fast and very efficient!

- Justin Kelly. 5/25/2018

Dennis Gordon is a shining example of integrity, honesty and quality workmanship! He was our first call when our entire system broke down and after meeting him and as a result of his diagnosing our situation we hired him immediately. His personal professional attention to our needs were met. From removal to installation of both our furnace and AC unit were performed in more than a timely fashion and it was completed to our satisfaction. We will look no further than Dennis Gordon for all of our servicing needs in the future! Prices were more than affordable!!

- Christine Roberts. 5/8/2018

Been using Able heating and cooling for the past 2 years and Dennis has been extremely helpful and conscientious of our budget. It is great to find someone who takes the time to educate you about the repairs (if you want to know what the problem that you're having is) and also gives you options based on repairs. Great job Dennis and thank you! I would recommend this service to everybody Share click to collapse contents

- jim Gigliotti. 5/1/2018

- Jessica Paseler. 4/31/2018

Dennis has been extremely helpful in every aspect. Very professional crew. He has serviced my air conditioning for a few years now (until it needed to be replaced....) as well as my boiler. The new AC unit is superb, and Dennis even contacted me after the fact to make sure I look out for a few things (like leaking water) and to notify him right away if something seemed off. His prices are extremely competitive, and, more importantly, his work is top notch. His crew even went so far as to remove their shoes when working throughout my home. I highly recommend.

- Steve Berlen. 4/30/2018

Very prompt, knowledgeable, and professional service. They were able to fit me into an appointment same day. Dennis properly diagnosed the issue and had the AC running in no time.

Dennis was very professional and explained in detail the job that needed to be done. Very affordable and excellent service.

- Lori Gardner. 4/23/2018

Excellent Service! Answered phone and took the call right away! Got the repair done quickly and affordably! Definitely recommend and will use whenever I can!

Excellent service I would recommend able heating and cooling to others. Dennis was great to deal with. He explained everything.

- Yahoo Brigante. 4/17/2018

My husband and i just had central air put in from dennis.GREAT price and very respectful,courteous, and thorough. He even called the next morning to make sure i was completely satisified with his work.and he actually discovered a leak i had under my house...that i didnt know about and brought it to my attention.

- Lena Costello. 4/2/2018

Dennis and his guys are very professionals. Shows up on time, answer all my questions and concerns. They install new air conditioning system and a new heating system. A pleasure to work with them. Darlene

- Eddie Pellicier. 3/9/2018

Dennis from Able Heating & cooling is very knowledgeable. Being a technician myself I can recognize someone who understands their business. Dennis gave me several options and delivered product installed in 2 days! Mine is a heat pump/ propane combo with digital thermostat. It works great. The team cleaned the work area when done. Dennis also was significantly less money than a leading competitor. I referred him to a relative who had a similar experience. 👍

He was great I love the work he did on my heating system he delivers what he promise I was so happy he was able to come in and got the job done the same day now me and my family can sleep nice and warm thank you very much

- Rosana Santana. 2/5/2018

Able heating was great to deal with, very reliable and punctual! The tech was able help get the job done quickly and effectively so we could enjoy our new heating system in our home. He also uses the latest, up to date high tech service tools to get the job done right, see for yourself!

- Kaz Sperling. 9/30/2017

I have used Dennis and Able Heat for my HVAC needs since moving to Saylorsburg, PA and he has not let me down. I highly recommend him and his work. I support local businesses especially the small guys and have never been let down in the 2 years I have been working with him.

Dennis and his crew did a terrific job for me on installing my new gas boiler. He explained what was going to happen, found solutions to some tricky issues, and the installation went smoothly, and they cleaned up before they left. And I got a big rebate from the gas company! Would highly recommend . Thanks, Dennis

- Jody Petersen. 9/20/2017

Very friendly and professional.

- Christopher Fuente. 9/19/2017

Honest and fair pricing. Came out immediately to assess our AC unit and provided us with the best options for our budget. Highly would recommend!

- Jennifer Fuente. 9/9/2017

Very professional team that installed our heat pump system. They are knowledgeable and proficient in their work. The job was done in one day. Cudos to Denis and his team! I would recommend Able to any and all that need hvac services!

Dennis was awesome. He worked with me to figure out the best system for my family that I could afford, communication was great and his staff work fast and clean as well as being very respectful to my family and the needs of my children. They showed up when they said they would and completed the job in the allotted time frame.

For many years my wife had horrible allergies that affected her causing her to use countless medications. I always believed that the culprit of her allergies were being caused by our central heating and air containing. I had countless companies evaluate our systems which assured us that they were working well and were not the culprit. This year I needed to replace the units because efficiency and Able heating confirmed my wife's allergies were being caused by our central system. They showed us the mold in our system and also installed a special ultra violet light to kill any fungus, virus or bacteria. Our air feels cleaner and her allergies are improving. Able heating was professional, curtious and went the extra steps when installing our system. I would highly recommend this company not only to my family and friends but to my patients. If you suffer from allergies or health concerns it is important that the air you breath is clean and free of pathogens. Call them today for an evaluation and begin living a healthier life. Dr. M. Garcia Bangor, Pennsylvania.

Called and spoke directly with the owner. He was able to get over to fix my boiler problem the same day after he completed another job. He called me two more times to update me on his arrival time. Job was completed professionally and quickly.

Dennis's guys were able to put a replacement A.C. system in for me quickly after mine had failed during the summer. They did a great job installing and cleaning up after themselves, while sticking to the quote Dennis gave me in the beginning of the job. Would recommend to anyone in the area looking for heating and cooling work.

Able Heating and Cooling are a great company Dennis came to my house evaluated the problem we were having and within 24 hrs had the problem fixed for us, and may I add at a decent price!

- Deondra Anderson. 6/29/2017

Professional friendly service. Dennis was prompt and informative. Came out to us on short notice at the height of cooling season. Would definitely recommend him to anyone and call him again for any future cooling needs.

- Felicia Corsiglia. 6/22/2017

I called and needed an estimate asap for a property I'm selling. They fit me in the next day!!! Would highly recommend them to future clients as well as family and friends.

- Kelly Carcione Client Coordinator. 6/14/2017

Very Fast Service-Great price and service

- Gallery Sixtythree. 5/30/2017

Employees were friendly and cleaned up at every phase of the job. You never would have known they were here afterwards! Very quick service. Would recommend to all!

Great Service and great value. Thank you

- Athanasios Tsirukis. 5/15/2017

Dennis came out to diagnose my problem the same day I called and gave an honest answer to my problem, along with choices for resolution to fit my budget. The AC wasn't working on my Heat Pump, and we were in the middle of the first hot weather, so everyone was calling with issues. We settled on replacing my old York unit (which served me well for 14 years) - and so far so good with my new Amana unit. The team was very professional and installed the unit quickly and surprisingly quietly. The cleaned up after themselves and the new unit looks great. My thanks to Dennis and his team!

- Edward Henderson. 4/31/2017

I used Able Heating & Cooling for a central air conditioning add-on to my existing oil furnace setup. I actually chose Able over the HVAC who installed my heating system six months ago, as my prior HVAC proposal would not have worked given the space limitations I have in my utility room, nor was their proposal competitively priced. Able H&C had to go outside of their normal parts distribution channels in order to locate A/C equipment that would fit my tightly spaced heating system configuration, and without sacrificing quality. Not only did Able H&C accomplish this, but I was also able to maintain a competitive price for the parts and installation of my A/C system. You will love working with Dennis. He is knowledgeable, professional, and most of all...patient. He will answer all of your questions without getting frustrated. And as for the cleanup? You wouldn't even know he was there. I plan to use Able H&C again for all of my HVAC routine maintenance needs, and would strongly recommend his services to anyone looking for an HVAC professional.

- Richard Varney, Jr.. 4/26/2017

A++!! Highly recommend....up front and honest and will do whatever they can to get you the best price....no need to go anywhere else!!!!! Duke

I've used Dennis and Able Heating & Cooling since I was in negotiation on purchasing my home. Dennis has been nothing but professional and responsive. I've recently had an entire new HVAC system installed. (Converted from oil burner to propane, also installed new AC unit as in a condenser and coil) lifetime warranties on the new equipment at a very reasonable price. I've referred home to family who has used him for large jobs as well. Highly recommended to all!

Excellent service. We had both the inside and outside HVAC systems replaced. The guys did very good work and were extremely professional.

100%% Satisfied! Able HVAC was extremely professional, easy to work with and reliable. I guarantee I will use Able HVAC again.

- Demetri Karedis. 3/3/2017

I called early on a Saturday morning for emergency service and not only did Dennis answer his phone personally, but he told me he would be over in about 2 hours. True to his word, he was there when he said he would be. He took the time to explain the problem to me and what it would take to fix it. He also pointed out issues that would need attention in the near future in order to avoid other emergency calls. After the repair was completed and he left, I had a question about something he told me to keep an eye on. When I sent Dennis a text, he immediately called me back and offered to stop back again in a few hours (on his personal time) to address the question. It was well past Saturday work hours when he came by. I was very impressed with his customer service and his attitude as well as his work. I will be calling him again.

- Marjorie Feehan. 2/19/2017

Able Heating showed up at my scheduled apt. Very punctual . Very knoledgeable with repair of my furnice. Polite and price was good. I am very pleased with it, and warm again. I would recommend Able Heating to friends and family. Thank you. Sandra Rompola

- Sandra Rompola. 1/21/2017

Very kind and courteous, came the day I called and was very quick with what he needed to check up on for me. 👍🏻

- Christina Ridner. 0/17/2017
With the cost of home heating fuel constantly on the rise, there's never been a better time to explore alternative means of heating your home or business. At Able Heating & Cooling, we offer a complete range...

Does your heat pump seem to be on the fritz lately? Has it stopped functioning completely? If you rely on your heat pump to regulate your property's temperature, then a broken heat pump could easily spell...

Efficient climate control is essential for residents of Stroudsburg and all of the Lehigh Valley and Pocono Valley. If your heater is malfunctioning, the fully licensed and insured HVAC professionals at...

Need a new boiler? You've come to the right place. Able Heating & Cooling is available in Stroudsburg, PA for reliable boiler replacement. When your boiler stops functioning or starts showing signs of...

If you're like most homeowners, your boiler is one of those appliances you just can't live without. So when your boiler starts to malfunction, you need prompt, dependable boiler repair service from an experienced contrac...

You rely on your boiler to heat your home and provide it with hot water. So if your boiler breaks or stops working efficiently, you need an experienced HVAC contractor who's well-versed in boiler installation to replace...

As boilers age, they can lose efficiency or stop working all together. That's why it's a good idea to have yours inspected every year. As a boiler service provider in Stroudsburg, PA, we're on hand to pinpoint any lurkin...

You depend on your furnace to keep your indoor space comfortable and warm when the weather turns cold. So when your furnace starts to malfunction and reaches the point where it can't be salvaged, you need a reliable cont...

Many people tend to ignore or forget about their furnaces until they stop working. When your furnace stops functioning properly, you'll want an experienced professional's help to make sure the problem doesn't quickly ge...

Need a heating solution for your home? Is your current furnace in total disrepair? At Able Heating & Cooling in Stroudsburg, PA, our team provides the highest level of quality in furnace installations and replacements....

Air Conditioning Compressor Installation

You rely on your air conditioner to cool you cool when temps outside start to heat up. But in order to maintain a comfortable indoor environment, you need every component of your air conditioning system to be working its...

Specializing in residential and commercial air conditioning repair, Able Heating & Cooling is committed to keeping clients in Stroudsburg, PA cool. No matter how old your system is, we'll work our hardest to repair it in...

Air Conditioning Installation

Specializing in residential and commercial air conditioning installation, Able Heating & Cooling is dedicated to keeping clients in the Lehigh Valley and Pocono Mountains nice and cool. No job is too big or small, and we...

Able Heating & Cooling provides proficient heating and air conditioning service for residential and commercial property owners throughout Stroudsburg and all of  the Lehigh Valley and Pocono Mountains. If you're searchin...

With oil prices rising to record highs and steadily increasing, there's never been a better time to switch over to natural gas. A cleaner burning and more efficient home heating fuel, natural gas can significantly reduce...
HVAC Contractor in Stroudsburg and all of Lehigh Valley and Pocono Mountains
When you need help with your residential or commercial HVAC system, you can turn to the professionals at Able Heating & Cooling with confidence. We've been providing comprehensive heating and cooling services for property owners throughout Stroudsburg and the surrounding areas since 2010. If your system has lost power, our HVAC contractor can analyze the problem and help you decide on a course of action.
We're fully licensed and insured to work on all HVAC brands, makes, and models. Our basic services include:
Furnace replacement

Air conditioning installation

Heat pump repair

Heating system repair
At Able Heating & Cooling, we understand that heating and cooling systems are a substantial investment, so our HVAC contractor will work hard to maintain your device. We've installed and maintained HVAC units for our neighbors throughout Stroudsburg and all of Lehigh Valley and Pocono Mountains, PA. We're appreciated for providing service in an environmentally responsible manner and at a sensible price, and we even offer to finance. Contact our office to schedule service or consultation and an estimate today.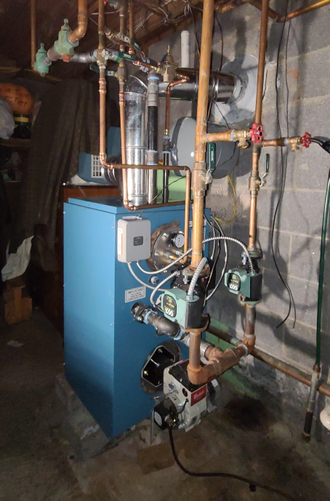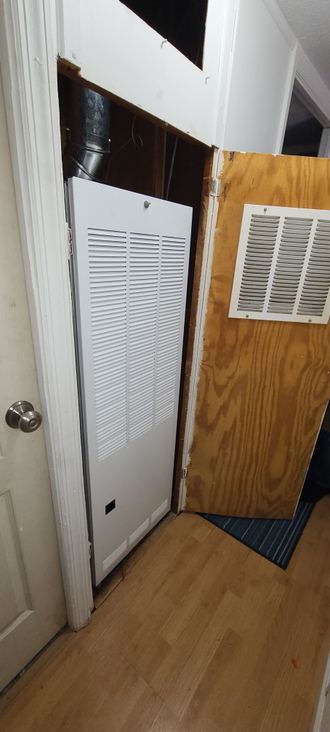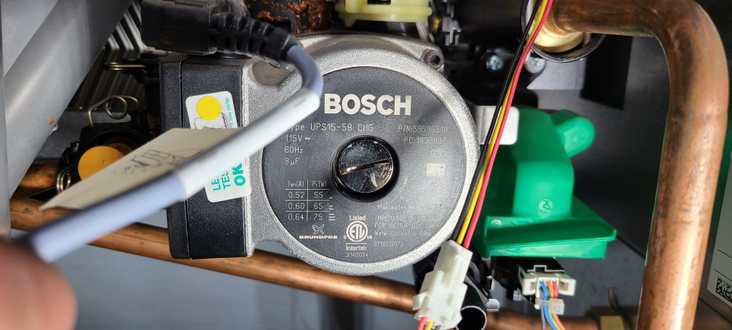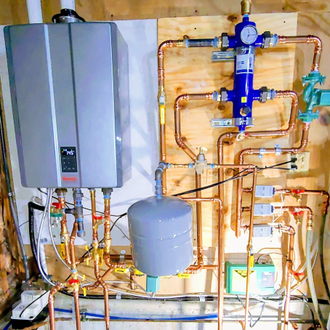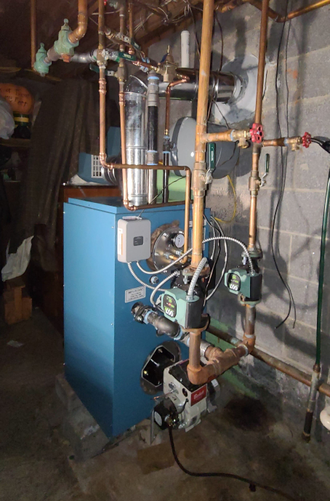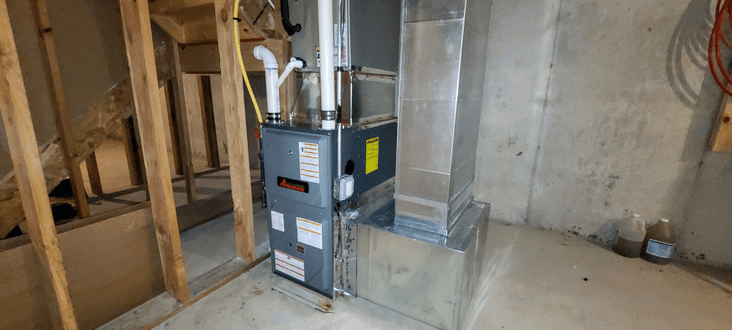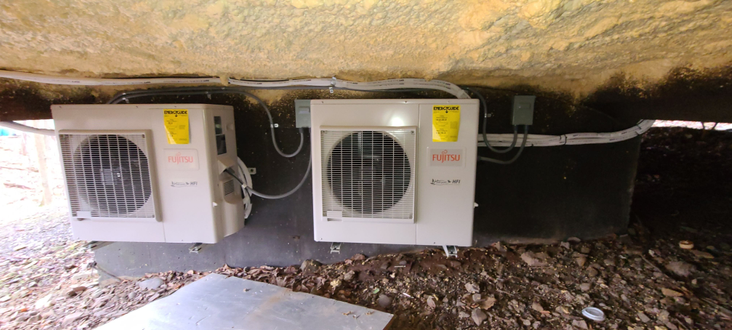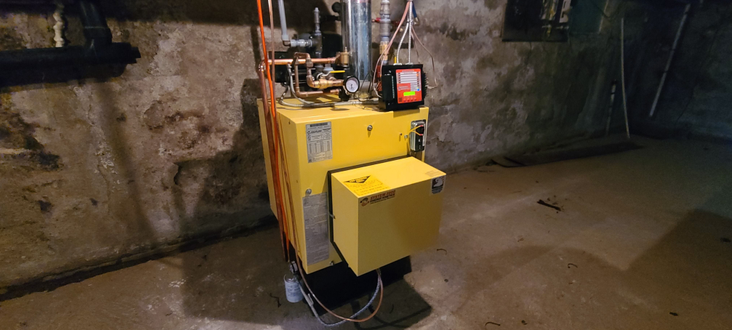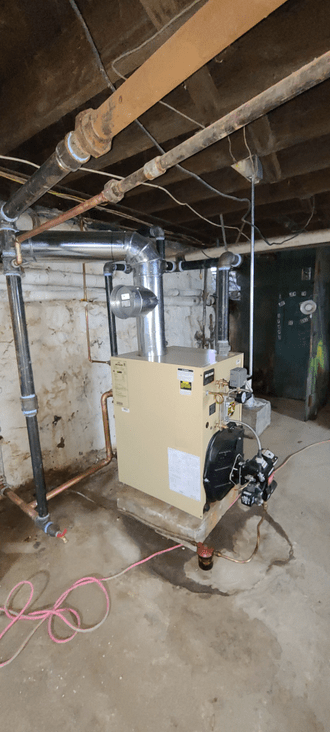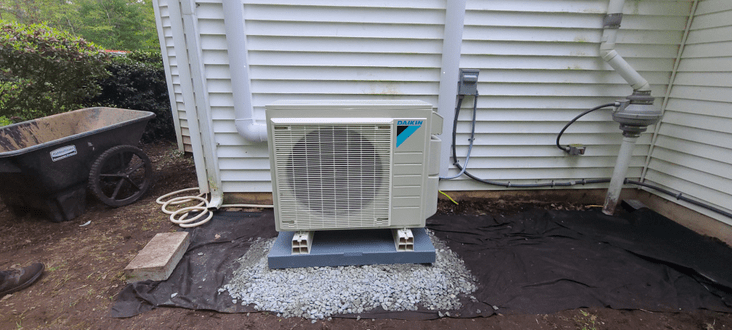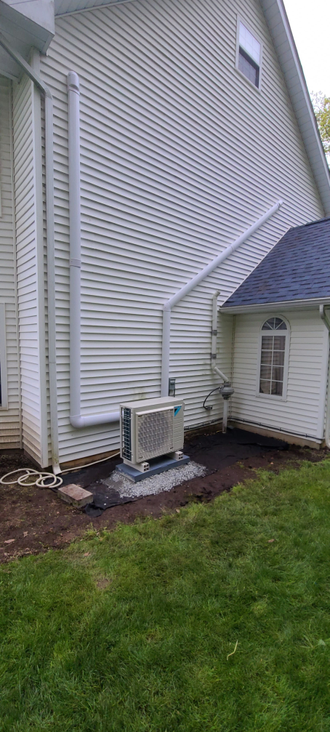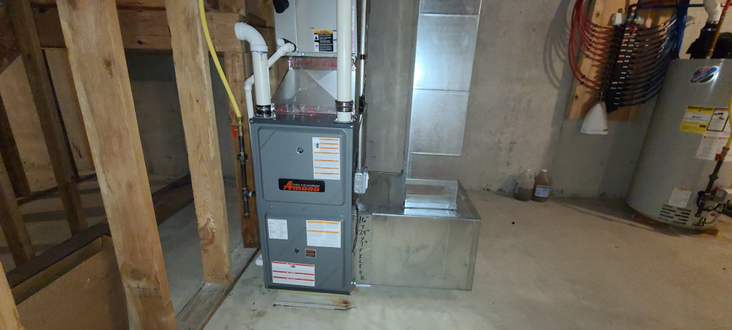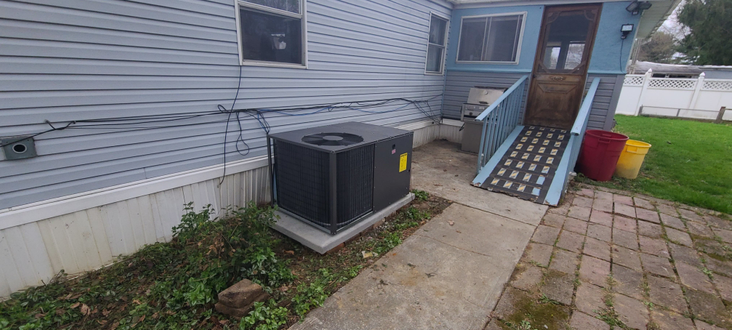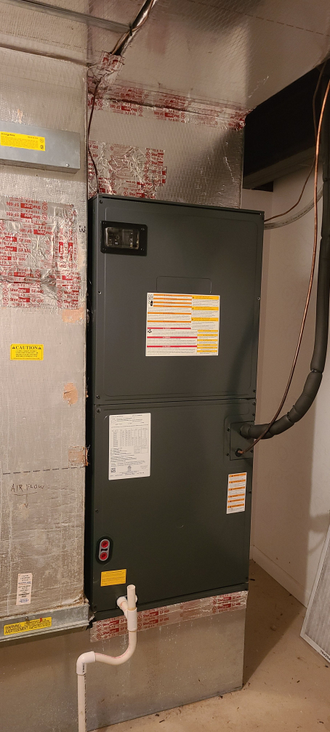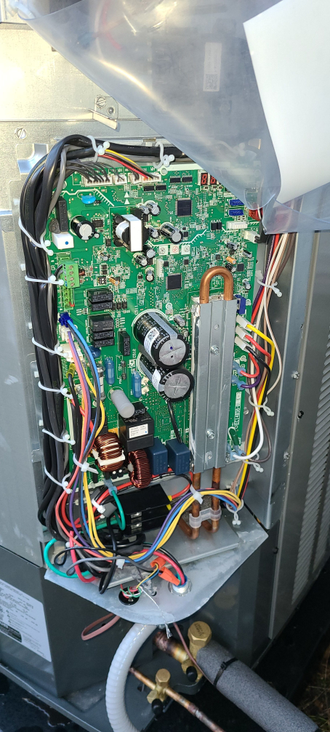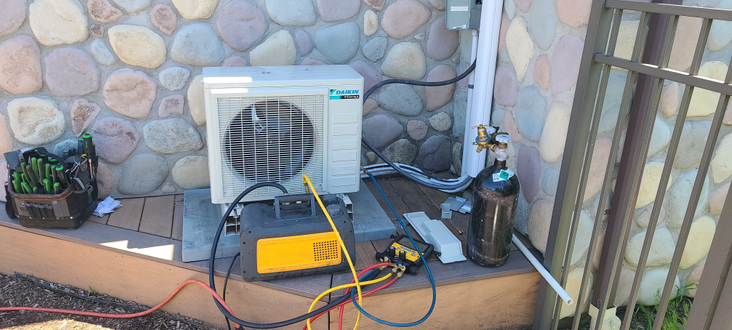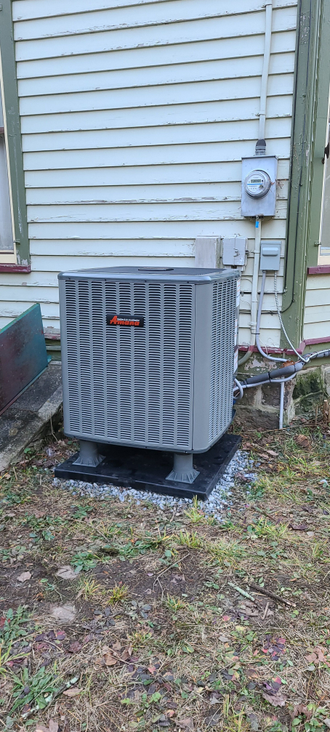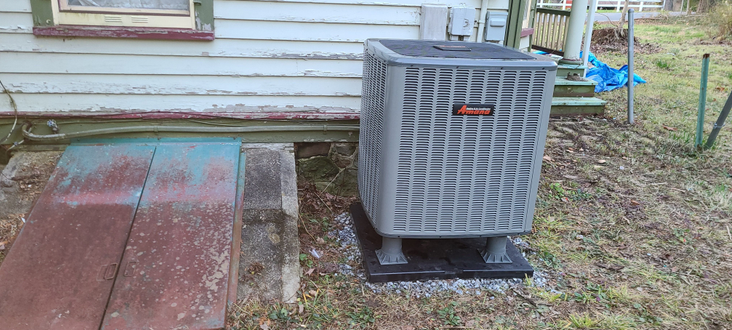 96% Ultra High Efficiency, ECM Motor, Lifetime warranty on the heat exchanger